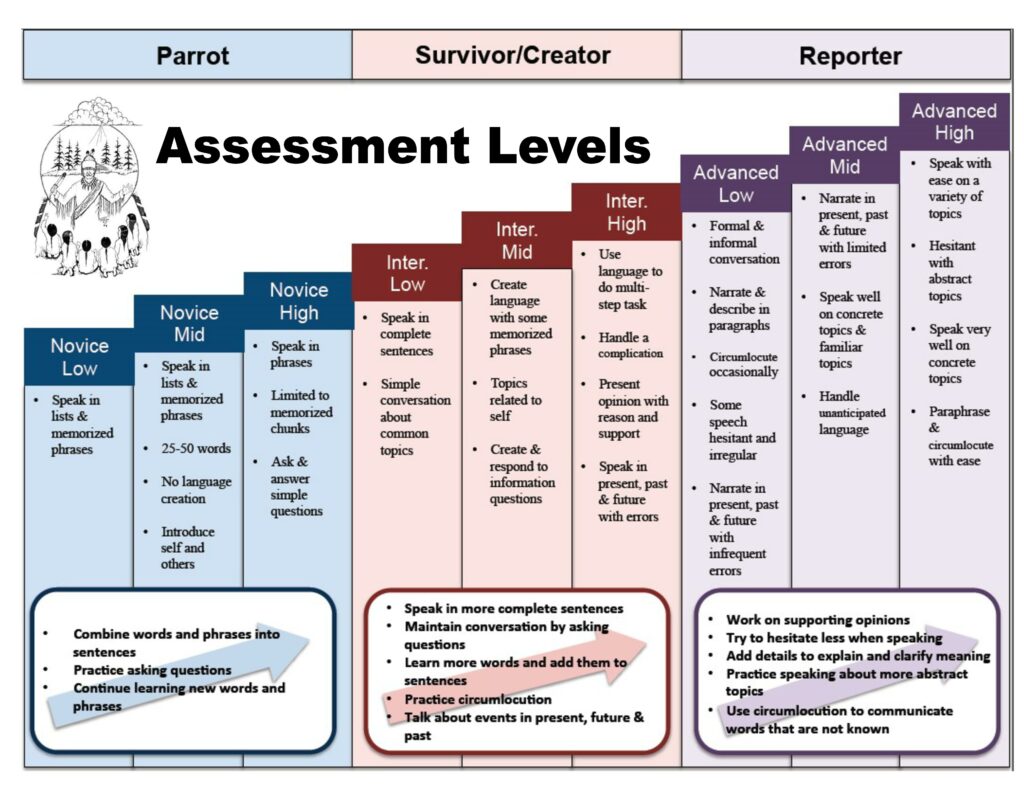 The HoChunk Renaissance has adopted the structure of American Council for Teaching a Foreign Language (ACTFL) proficiency guidelines. All guidelines are categorized by assessment levels from Novice to Advanced and each level has three tiers organized by Can-Do Statements. These Can-Do Statements include vocabulary and phrases arranged by the Curriculum team at HoChunk Renaissance.
Our curriculum deliverables:
Language learners identify and set learning goals and chart their progress toward language and intercultural proficiency.
Understand the comprehensive and continuum of growth in communication skills through the Novice, Intermediate, Advanced, Superior, and Distinguished levels.
Our language instructors write communication learning targets for curriculum, unit, and lesson plans.
Provides benchmarks of communication in the HoChunk language; Allowing stakeholders to review how well students are learning our language.
The statements are organized according to the Interpretive, Interpersonal, and Presentational Modes of Communication as described in the World-Readiness Standards for Learning Languages.
Introducing various forms of communication in the HoChunk language. Including:

Interpretive Communication: Learners understand, interpret, and analyze what is heard, read, or viewed on a variety of topics.
Interpersonal Communication: Learners interact and negotiate meaning in spoken, signed, or written conversations to share information, reactions, feelings, and opinions.
Presentational Communication: Learners present information, concepts, and ideas to inform, explain, persuade, and narrate on a variety of topics using appropriate media and adapting to various audiences of listeners, readers, or viewers.
Our curriculum team consists of Curriculum, Instruction, and Assessment. All three areas have exceptional methods, tools, and processes on how to teach and learn our sacred HoChunk language. Studies have shown that the major components of setting goals, documenting progress, and self-assessment of learning are critical in developing learner autonomy and self-regulation in language learners that contribute to increased motivation, higher language achievement, and academic success.
Reference: (www.actfl.org/resources)